Description
Choose two of the 4 latest softcover books in The Wild Adventures of Edgar Rice Burroughs Series and save $10 on the pair – that's 25% off.
A Soldier of Poloda
Further Adventures Beyond the Farthest Star
by Lee Strong
Cover Art: Chris Peuler; Interior Illustrations: Earl Geier
Book #5 in the Wild Adventures of Edgar Rice Burroughs Series.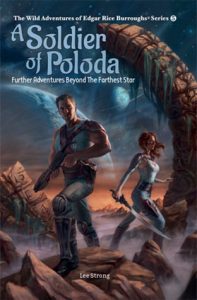 Like fellow Earthman, Tangor from the story Beyond the Farthest Star, American OSS officer Thomas Randolph is mysteriously teleported to a foreign planet where he lands in the center of a 100-year war that mirrors the Allied Powers' struggle against Adolph Hitler's Third Reich.
Unlike Tangor, Randolph – now Tomas Ran – finds himself behind enemy lines where he gains a first-hand view of the inner workings of the corrupt Kapar empire. Will Tomas, using his OSS skills, be able to devise a plan to escape with the beautiful Unisan prisoner, Loris Kiri, that will allow them to join her countrymen in their struggle against the Kapars?
American novelist Edgar Rice Burroughs debuted the world of Poloda in the pulp story Beyond the Farthest Star in 1940 just as Hitler's Nazis marched across Europe and the Imperial Japanese extended their reach across the South Pacific. Burroughs' youthful idealism regarding the nobility of America's previous war efforts had given way to a mature perspective of the savagery of combat that stains every battlefield. Burroughs' deeply-held views are reflected in this tale about a planet ravaged by 100 years of conflict as the nation of Unis devotes its entire existence to the struggle of freedom against tyranny.
Tarzan: The Greystoke Legacy Under Siege
by Ralph N. Laughlin and Ann E. Johnson
Cover Art: Tom Gianni; Interior Illustrations: Mike Grell
Book #4 in the Wild Adventures of Edgar Rice Burroughs series.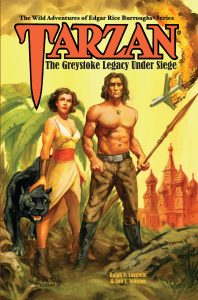 The Greystoke Legacy Under Siege lifts the TARZAN series to new, ground-breaking heights with a high adventure that immerses TARZAN and his offspring in an epic battle for their family's survival.
Includes a solution to the real-life murder of Dian Fossey, who devoted her life to the study and preservation of African gorillas;
Introduces Tarzan's great grandson, Jonathan – a young man struggling to seek his place in an adult world;
Unveils the inner workings of Tarzan's massive family wealth – the Greystoke Trust, a London-based financial estate whose global influence reaches into the highest levels of business and government. This rapid, page-turning adventure travels from Africa to London to Paris and to Moscow in pursuit of justice because the family is Under Seige:
Tarzan's African estate is demolished by an unknown guerrilla militia, leaving in its wake a leveled complex littered with the dead;
The Greystoke Trust, run by grandson Jackie, is accused of capital crimes against the Crown, and Jackie is jailed;
Son Jack, the last known person to meet with Dian Fossey, is accused of her murder and is sought by African authorities;
Jonathan's airplane is shot down and crash lands into the African jungle forcing him to call upon his instincts, heritage and martial arts training to survive. This leap into the late 20th Century will provide intense excitement as chapter after chapter leaves doubt as to the survival of the Greystokes and their legacy.
Tarzan Trilogy
by Thomas Zachek
Cover Art: Joe Jusko; Interior Illustrations: Douglas Klauba
Book #3 in the Wild Adventures of Edgar Rice Burroughs series.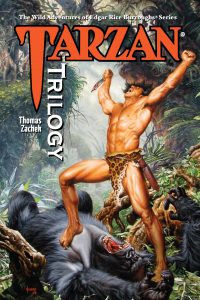 Three all NEW Tarzan Stories, in one book, with Illustrations
Three all new tales of Tarzan at Point Station, a remote English outpost near the Waziri homelands. Set during the advent of World War II, we see more and more European intrusion to the Bolongo River Basin. Tarzan becomes embroiled in increasingly dangerous events as cultures clash.
1] Tarzan and the "Fountain of Youth: Searching for the missing son of a friend, Tarzan encounters agents of an unscrupulous pharmaceutical company exploiting jungle resources for its own profit.
2] Tarzan and the Cross of Vengeance: A team of archaeologist making a groundbreaking discovery, a group of well-meaning but naive American missionaries arriving to convert the native tribes, and a ruthless band of men with a dark purpose stir up a heady mix of challenges for Tarzan, fomenting an intertribal war that only he can stop.
3] Tarzan the Conqueror: When the Third Reich invades Africa to exploit the land for riches and enslave the native populations in labor camps, Tarzan must lead the tribes in an unprecedented tribal resistance.
Tarzan on the Precipice
by Michael A. Sanford
Cover Art: Will Meugniot
Book #2 in the Wild Adventures of Edgar Rice Burroughs Series.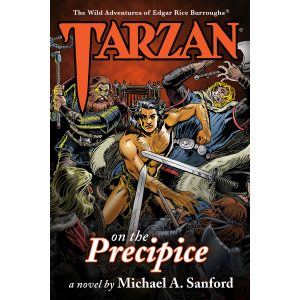 With Tarzan alone in Wisconsin after nobly allowing Jane to leave with his cousin – who believes he is the rightful heir to the Greystoke estate – Tarzan is despondent and seeks the wilderness to console himself. And there is a vast wilderness just north of him in Canada.
Intending to be alone, Tarzan is soon anything but. Captured and put in chains by vicious criminals, Tarzan is pushed off the precipice of a volcanic crater. While surviving that fall he discovers a lost Viking civilization, but he again becomes a captive. And this time the odds are overwhelming. Tarzan's punishment includes running unarmed through a gauntlet of a dozen heavily armed Norsemen with axes, swords and hammers.
Tarzan's fight for survival is epic and will keep you fascinated throughout the entire novel. Join Tarzan as he ventures into Canada and encounters untold dangers with deadly consequences that cast doubt on whether Tarzan can ever return to Africa.