Description
by John Eric Holmes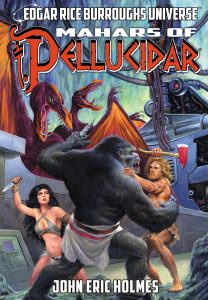 Cover art by Richard Hescox
Foreword and frontispiece by Christopher West Holmes
When scientist Chris West saw the video-screen image of a beautiful woman about to suffer a gruesome death in an unknown land, he didn't hesitate to race to her aid by means of an experimental matter transmitter. Plunged headlong into a world of savage men and prehistoric beasts at the Earth's core, the young ex-Marine would soon be fighting for his own life as a captive of the Mahars, cruel reptilian rulers of the inner world of Pellucidar.
Includes the Bonus Classic Novelette
"Tarzan and the Land That Time Forgot"
by Joe R. Lansdale
While returning from a trip to the Earth's core, the O-220 dirigible is blown off course by a violent tempest that plunges it into the frigid ocean off the coast of primeval Caspak. Now Tarzan, along with Captain Zuppner and a Pellucidarian woman named Zamona, must battle for survival amid the mysteries and dangers of the Land That Time Forgot!
Mahars of Pellucidar is available in softcover and hardcover editions, as well as a hardcover Collector's Edition with a signed bookplate.* The book is expected to ship to customers in Late Summer 2022.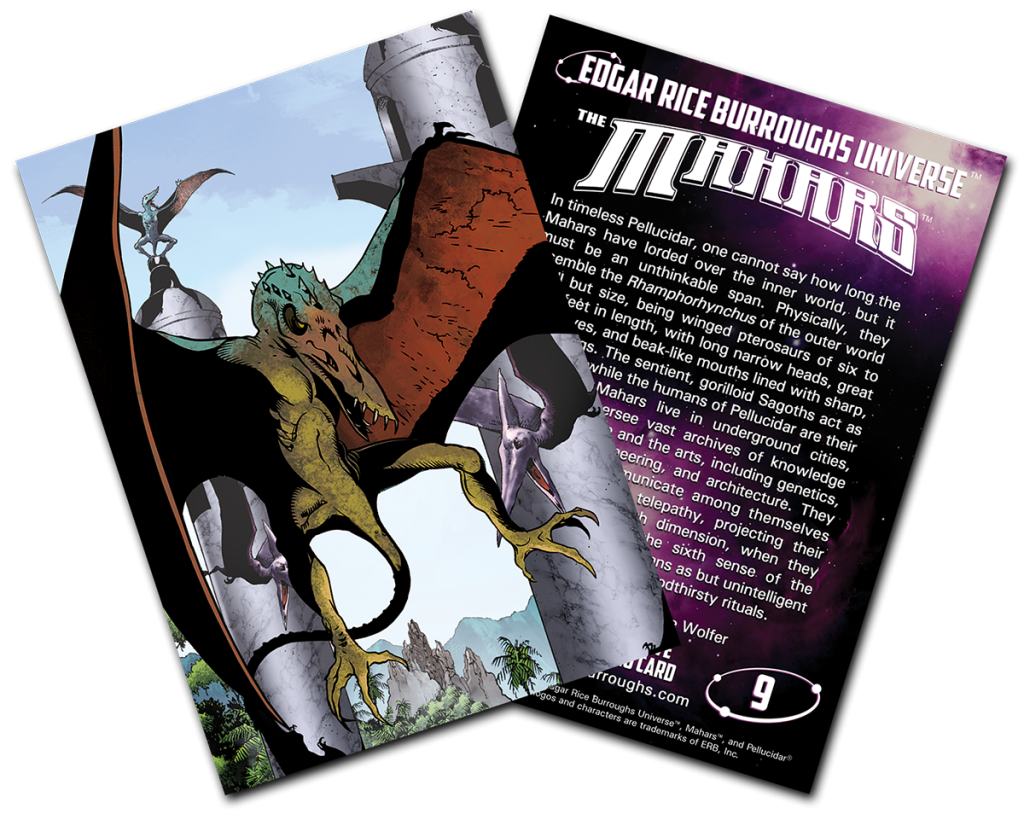 Bonus Trading Card—While Supplies Last
All preorders of Mahars of Pellucidar placed directly from ERB, Inc.'s online store will come with an exclusive collectible ERB Universe trading card spotlighting the malevolent Mahars, the reptilian overlords of the inner world. Collect all of the trading cards by preordering each ERB Universe novel directly from ERBurroughs.com!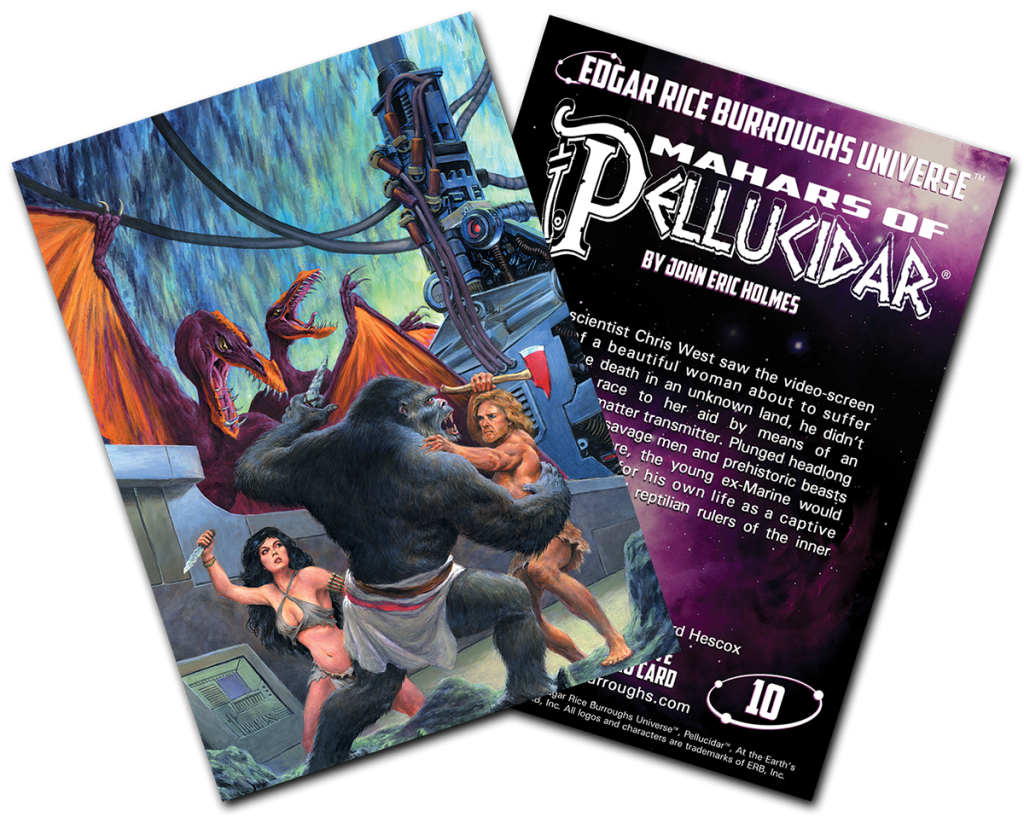 Hardcover Limited Collector's Edition
The hardcover Collector's Edition of Mahars of Pellucidar features a special ERB Universe bookplate signed by Christopher West Holmes (John Eric Holmes' son, who also wrote the books' forewords and illustrated their frontispieces), along with facsimile signatures of John Eric Holmes and Edgar Rice Burroughs. Additionally, the Collector's Edition of Mahars of Pellucidar will include an additional ERB Universe trading card featuring Richard Hescox's cover art for the novel. Each Collector's Edition is limited to only 300 copies.
ABOUT THE AUTHORS
John Eric Holmes
John Eric Holmes (1930–2010) was the first writer after Edgar Rice Burroughs to pen an authorized novel set in Pellucidar, the world at the Earth's core. He was also the author of the Buck Rogers novel Mordred as well as several short stories. He is perhaps best known for having written the popular 1977 Dungeons & Dragons Basic Set (also known among D&D players as the "Holmes Basic Set"), which introduced an entire generation to the world of fantasy tabletop roleplaying games. In 1993, he was honored with the Lifetime Achievement Award from the Edgar Rice Burroughs Chain of Friendship (ECOF).
Joe R. Lansdale
Joe R. Lansdale is the author of fifty novels and four hundred shorter works, including stories, essays, reviews, film and TV scripts, introductions and magazine articles, and a book of poetry. His work has been made into the films Bubba Hotepand Cold in July, as well as the acclaimed Sundance TV show Hap and Leonard.  He has received numerous recognitions for his work. Among them the Edgar, for his crime novel The Bottoms, the Spur, for his historical western Paradise Sky, as well as ten Bram Stokers for his horror works. He has also received the Grandmaster Award and the Lifetime Achievement Award from the Horror Writers Association. He has been recognized for his contributions to comics with the Inkpot Life Achievement Award, and has received the British Fantasy Award, and has had two New York TimesNotable Books. He has been honored with the Italian Grinzane Cavour Prize, the Sugar Pulp Prize for Fiction, and the Raymond Chandler Lifetime Achievement Award. The Edge of Dark Water was listed by Booklist as an Editor's Choice, and the American Library Association chose The Thicket, for Adult Books for Young Adults. Library Journal voted The Thicket, as one of the Best Historical Novels of the Year. He has also received an American Mystery Award, the Horror Critics Award, and the Shot in the Dark International Crime Writer's Award, and was recognized for his contributions to the legacy of Edgar Rice Burroughs with the Golden Lion Award. He is a member of the Texas Institute of Literature and has been inducted into the Texas Literary Hall of Fame and is Writer in Residence at Stephen F. Austin State University. He lives in Nacogdoches, Texas, with his wife, Karen.
About the Cover Artist
Richard Hescox is one of the founding lights of the Imaginative Realism movement. He has contributed artwork to such projects as the films E.T. and The Dark Crystal, as well as computer games, record albums, and magazine illustrations. He has also provided cover art and interior illustrations for hundreds of books, including the limited edition of A Clash of Kings from the George R. R. Martin's bestselling Game of Thrones series. Richard previously painted the iconic cover art for all five books of Edgar Rice Burroughs' Carson of Venus series, as well as Skies of Venus: A Novel of Amtor by Neal Romanek and Tarzan and the Valley of Gold by Fritz Leiber.
---

Swords of Eternity Super-Arc
A mysterious force hurls inventor Jason Gridley and his protégé Victory Harben across space and time, bringing them face to face with heroes and heroines of unparalleled courage and ability—Carson Napier, Tarzan, John Carter, and more. With the help of their intrepid allies, Jason and Victory will uncover a plot both insidious and unthinkable—one that threatens to tear apart the very fabric of the universe!
Carson of Venus: The Edge of All Worlds by Matt Betts
Tarzan: Battle for Pellucidar by Win Scott Eckert
John Carter of Mars: Gods of the Forgotten by Geary Gravel
Victory Harben: Fires of Halos by Christopher Paul Carey
Other Edgar Rice Burroughs Universe Books
Red Axe of Pellucidar by John Eric Holmes
Tarzan and the Forest of Stone by Jeffrey J. Mariotte
Tarzan and the Valley of Gold by Fritz Leiber
Tarzan and the Dark Heart of Time by Philip José Farmer
---
Copyright © Edgar Rice Burroughs, Inc. Trademarks Edgar Rice Burroughs®; Edgar Rice Burroughs Universe™; ERB Universe™; Pellucidar®; At the Earth's Core™; Mahars™; Tarzan®; The Land That Time Forgot™; Caspak™; John Carter®; John Carter of Mars®; Carson of Venus®; Carson Napier™; Jason Gridley™; Victory Harben™; and Swords of Eternity™ owned by Edgar Rice Burroughs, Inc. Associated logos, characters, names, and distinctive likenesses thereof are trademarks or registered trademarks of Edgar Rice Burroughs, Inc.