Description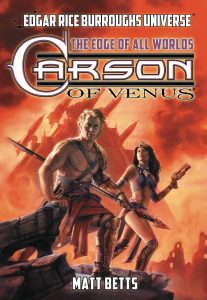 by Matt Betts
Cover art by Chris Peuler
When a mysterious enemy attacks his adopted nation of Korva, Earthman Carson Napier discovers his own arrival on Venus years ago may have unknowingly triggered the strike. The invaders' trail of death and destruction leads Carson and his beloved princess Duare headlong into battle against a seemingly invincible, primordial race. But that is not Carson's only challenge, for an uncanny phenomenon has entangled him with two strange individuals from beyond spacetime. Will Carson be able to solve the mysteries of his past and the enigmatic visitors before the entire planet descends into chaos?
Bonus Novelette: "Pellucidar: Dark of the Sun"
by Christopher Paul Carey
Includes an all-new novelette introducing the Edgar Rice Burroughs Universe's newest heroine, Victory Harben.
When the very principle of physics behind the Gridley Wave mysteriously fails, cutting off all communication between the hollow world of Pellucidar and the outer crust, inventor Jason Gridley seeks help from his brilliant young protégé, Victory Harben. Together they recover timeworn records from deep in the ruins of a dead Mahar city, hoping to use knowledge of Pellucidar's former reptilian overlords to jumpstart the Gridley Wave. But when their experiment goes terribly wrong, Jason and Victory suddenly find themselves drawn into the inscrutable machinations of an ancient evil.
Matt Betts is the author of such science fiction novels as the critically recognized adventure Odd Men Out and its sequel Red Gear Nine, the urban fantasy Indelible Ink, and the giant monster vs. giant robot tale The Shadow beneath the Waves. He is also an accomplished speculative poet, and lives in Ohio with his wife and children.
Christopher Paul Carey is the author of Swords Against the Moon Men, an authorized sequel to Edgar Rice Burroughs' classic science fantasy novel The Moon Maid, and the forthcoming ERB Universe novel Victory Harben: Fires of Halos. He is Director of Publishing at Edgar Rice Burroughs, Inc., and lives in Southern California.
Cover artist Chris Peuler is a genre illustrator based in Chicago, working primarily in fantasy and science fiction. A traditionally trained digital painter, Chris has created vivid imagery for various gaming and book publications, including the cover art for Swords Against the Moon Men and A Soldier of Poloda: Further Adventures Beyond the Farthest Star published by Edgar Rice Burroughs, Inc.
Carson of Venus: The Edge of All Worlds is available in softcover and hardcover editions, as well as a hardcover Collector's Edition with a signed bookplate.*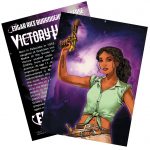 BONUS TRADING CARD WITH PREORDER
All Preorders of Carson of Venus: The Edge of All Worlds placed directly from our online store will come with a special collectible ERB Universe Victory Harben trading card!** Collect all of the trading cards by preordering each ERB Universe novel directly from ERBurroughs.com!
H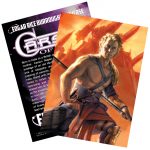 ARDCOVER COLLECTOR'S EDITION
The hardcover Collector's Edition features a special ERB Universe bookplate signed by authors Matt Betts and Christopher Paul Carey, as well as an ERB Universe Carson of Venus trading card produced exclusively for the Collector's Edition, and is limited to only 200 copies.
* The hardcover Collector's Edition is available exclusively from ERBurroughs.com.
** Offer not valid for books purchased elsewhere.
---

Swords of Eternity Super-Arc
A mysterious force hurls inventor Jason Gridley and his protégé Victory Harben across space and time, bringing them face to face with heroes and heroines of unparalleled courage and ability—Carson Napier, Tarzan, John Carter, and more. With the help of their intrepid allies, Jason and Victory will uncover a plot both insidious and unthinkable—one that threatens to tear apart the very fabric of the universe!
Carson of Venus: The Edge of All Worlds by Matt Betts
Tarzan: Battle for Pellucidar by Win Scott Eckert
John Carter of Mars: Gods of the Forgotten by Geary Gravel
Victory Harben: Fires of Halos by Christopher Paul Carey
The Dead Moon Super-Arc
Korak at the Earth's Core by Win Scott Eckert
Other Edgar Rice Burroughs Universe Novels
Mahars of Pellucidar by John Eric Holmes
Red Axe of Pellucidar by John Eric Holmes
Tarzan and the Forest of Stone by Jeffrey J. Mariotte
Tarzan and the Valley of Gold by Fritz Leiber
Tarzan and the Dark Heart of Time by Philip José Farmer
---
Copyright © Edgar Rice Burroughs, Inc. Trademarks Edgar Rice Burroughs®, Edgar Rice Burroughs Universe™, ERB Universe™, Tarzan®, John Carter®, John Carter of Mars®, Carson of Venus®, Carson Napier™, Pellucidar®, Beyond the Farthest Star™, The Moon Maid™, The Moon Men™, Jason Gridley™, Victory Harben™, and Swords of Eternity™ owned by Edgar Rice Burroughs, Inc. All associated logos, characters, names, and distinctive likenesses thereof are trademarks or registered trademarks of Edgar Rice Burroughs, Inc.