Description
Written by Edgar Rice Burroughs
Art by Joe Jusko
Get the first 4 hardcover books (Tarzan® Books 1-4)
of the Edgar Rice Burroughs Authorized Library™
for the price of 3!
TARZAN OF THE APES (Tarzan Book 1)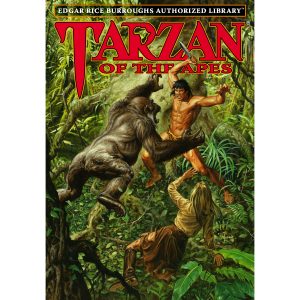 Orphaned as a babe in the African jungle, tiny John Clayton, the only child of the Lord and Lady Greystoke, is rescued by a tribe of great apes. The child, now named "Tarzan," grows to manhood in this savage world, among the fierce anthropoids. Aided by his keen knife and innate intelligence, Tarzan ascends to become king of the apes, able to face any peril and conquer all foes.
When men come to Tarzan's jungle, they bring danger that is motivated by greed and deceit. All of Tarzan's cunning will be required if he is to defeat this threat, and win the love of Jane Porter, the beautiful young woman whose appearance in Tarzan's jungle has left him forever changed.
Foreword by Joe Jusko and Afterword by Scott Tracy Griffin
THE RETURN OF TARZAN (Tarzan Book 2)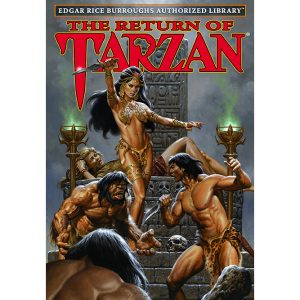 Disconsolate over the loss of Jane Porter's hand to his cousin William Cecil Clayton, Tarzan renounces his title of Lord Greystoke and returns to Paris to visit his friend Paul D'Arnot. Realizing the ape-man is not suited to the vicissitudes of civilization, D'Arnot helps his grieving comrade acquire a post in the French Secret Service that better fits Tarzan's adventurous nature.
After disrupting a Russian espionage operation, the ape-man is tossed overboard during his ocean passage to South Africa, and resumes his primitive life on the West Coast. He befriends the Waziri tribe and leads them on a trek to explore the lost city of Opar, a forgotten land populated by a bestial race, ruled by the mercurial high priestess La. There, Tarzan's path will cross once again with that of Jane Porter, but can the two realize their love is destined before they meet death on the altar of the Flaming God?
Foreword by Will Murray and Afterword by Scott Tracy Griffin
THE BEASTS OF TARZAN (Tarzan Book 3)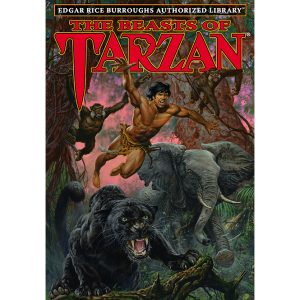 After settling at their London estate as Lord and Lady Greystoke, Tarzan and Jane find their contentment shattered by the ape-man's former enemies, the Russian spies Nikolas Rokoff and Alexis Paulvitch. Bent on revenge, the two villians kidnap Jane and the couple's infant son Jack, stranding Tarzan naked and alone on a remote jungle island while fleeing to the African interior.
Tarzan's savage nature reemerges as he recruits Sheeta the panther, Akut and his tribe of great apes, and the mighty warrior Mugambi to pursue the criminals up the Ugambi River into the heart of the jungle, where cannibal tribes hold sway and his desperate adversaries pursue their cruel vendetta.
Foreword by Howard Andrew Jones and Afterword by Scott Tracy Griffin
THE SON OF TARZAN (Tarzan Book 4)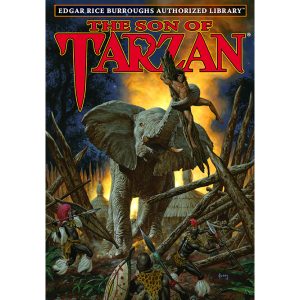 Unaware of his father's savage past, Tarzan and Jane's young son Jack becomes captivated by Ajax, the star of a trained ape act. Ajax—actually Tarzan's longtime friend Akut—has been brought to London by Tarzan's old enemy Alexis Paulvitch, who hopes to wreak vengeance on the ape-man.
The Edgar Rice Burroughs Authorized Library
For the first time ever, the Edgar Rice Burroughs Authorized Library presents the complete literary works of the Master of Adventure in uniform hardcover editions. Published by the company founded by Mr. Burroughs in 1923, each volume of the Authorized Library is packed with extras and rarities not to be found in any other edition. From cover art and frontispieces by legendary artist Joe Jusko to forewords and afterwords by today's authorities and luminaries to a treasure trove of bonus materials mined from the company's extensive archives in Tarzana, California, the Edgar Rice Burroughs Authorized Library will take you on a journey of wonder and imagination you will never forget.
Edgar Rice Burroughs: Master of Adventure
The creator of the immortal characters Tarzan of the Apes and John Carter of Mars, Edgar Rice Burroughs is one of the world's most popular authors. His timeless tales of heroes and heroines transport readers from the jungles of Africa and the dead sea bottoms of Barsoom to the miles-high forests of Amtor and the savage inner world of Pellucidar, and even to alien civilizations beyond the farthest star. Mr. Burroughs' books are estimated to have sold hundreds of millions of copies, and they have spawned 60 films and 250 television episodes.
Joe Jusko: Visionary Artist
Joe Jusko is among today's most acclaimed fantasy, pin-up, and comic artists. His work has been featured on book and comic posters, and on the much-praised 1992 Marvel Masterpieces trading cards. Jusko is a recipient of myriad industry honors, including a Certificate of Merit from the Society of Illustrators and a 2001 Chesley Award nomination. Fittingly, he was born on September 1, sharing his birthday with Edgar Rice Burroughs. Jusko's longtime love of Burroughs' work continues to inspire him in illustrating the Authorized Library and bringing the author's creative vision to life.
---
See all the books in the Edgar Rice Burroughs Authorized Library