Description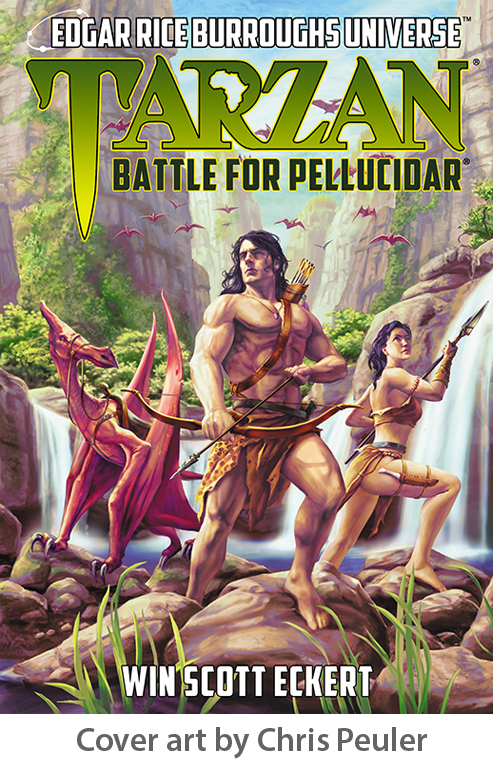 by Win Scott Eckert
Cover art by Chris Peuler
Tarzan of the Apes, Jason Gridley, and the crew of the airship O-220 return to Pellucidar, the world at the Earth's core, on a wartime mission to stop the Nazis from obtaining a powerful superweapon. But when the Lord of the Jungle's murderous adversaries partner with the Mahars—Pellucidar's routed reptilian overlords—and his adventurous granddaughter Suzanne goes missing on a reconnaissance mission, can Tarzan prevent the conquest and enslavement of all humanity in both the inner and outer worlds?
Bonus Novelette
"Victory Harben: Clash on Caspak"
by Mike Wolfer
Hurled through time and space from her homeworld of Pellucidar, Victory Harben plummets into peril when she finds herself on the island continent of Caspak, the Land That Time Forgot. Using skills learned from her friend Tarzan and the Stone Age land of her birth, Victory fights for her very survival against savage beasts and uncanny Wieroos, the winged humanoid terrors of Caspak. But that is only the beginning of her trials, as a strange visitor arrives with an omen of Victory's role in the machinations of the Swords of Eternity super-arc!
Tarzan: Battle for Pellucidar is available in softcover and hardcover editions, as well as a hardcover Collector's Edition with a signed bookplate.*

BONUS TRADING CARD WITH PREORDER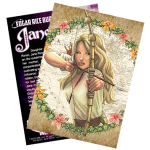 All preorders of Tarzan: Battle for Pellucidar placed directly from our online store will come with a special collectible ERB Universe Jane Porter™ trading card!** Collect all of the trading cards by preordering each ERB Universe novel directly from ERBurroughs.com!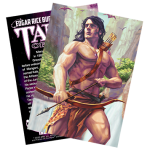 HARDCOVER COLLECTOR'S EDITION
The hardcover Collector's Edition features a special ERB Universe bookplate signed by authors Win Scott Eckert and Mike Wolfer, as well as an ERB Universe Tarzan of the Apes™ trading card produced exclusively for the Collector's Edition, and is limited to only 200 copies.
* The hardcover Collector's Edition is available exclusively from ERBurroughs.com.
** Offer not valid for books purchased elsewhere.
Win Scott Eckert is the legacy author of science-fiction Grand Master Philip José Farmer's Patricia Wildman series, as well as the coauthor with Farmer of the upcoming Doc Caliban novel, The Monster on Hold. Eckert's other professional credits include authorized tales of Zorro, the Phantom, Honey West, the Avenger, and the Green Hornet. A lifelong Edgar Rice Burroughs reader, he lives in Colorado with his wife and a bevy of four-legged family members.
Mike Wolfer, a professional writer and comics illustrator for over thirty years, has been a key talent working on the Edgar Rice Burroughs Universe comic books for American Mythology Productions, including Pellucidar, The Land That Time Forgot, and The Moon Maid. Best known for his Widow series, Wolfer is the creator of the Daughters of the Dark Oracle series and the horror anthology Crypt of Screams, and has worked on numerous licensed properties.
Cover artist Chris Peuler is a genre illustrator based in Chicago, working primarily in fantasy and science fiction. A traditionally trained digital painter, Chris has created vivid imagery for various gaming and book publications, including the cover art for Swords Against the Moon Men and A Soldier of Poloda: Further Adventures Beyond the Farthest Star published by Edgar Rice Burroughs, Inc.
---

Swords of Eternity Super-Arc
A mysterious force hurls inventor Jason Gridley and his protégé Victory Harben across space and time, bringing them face to face with heroes and heroines of unparalleled courage and ability—Carson Napier, Tarzan, John Carter, and more. With the help of their intrepid allies, Jason and Victory will uncover a plot both insidious and unthinkable—one that threatens to tear apart the very fabric of the universe!
Carson of Venus: The Edge of All Worlds by Matt Betts
Tarzan: Battle for Pellucidar by Win Scott Eckert
John Carter of Mars: Gods of the Forgotten by Geary Gravel
Victory Harben: Fires of Halos by Christopher Paul Carey
Other Edgar Rice Burroughs Universe Novels
Mahars of Pellucidar by John Eric Holmes
Red Axe of Pellucidar by John Eric Holmes
Tarzan and the Forest of Stone by Jeffrey J. Mariotte
Tarzan and the Valley of Gold by Fritz Leiber
Tarzan and the Dark Heart of Time by Philip José Farmer
---
Copyright © Edgar Rice Burroughs, Inc. Trademarks Edgar Rice Burroughs®, Edgar Rice Burroughs Universe™, ERB Universe™, Tarzan®, Tarzan of the Apes™, Lord of the Jungle®, Jane Porter®, Carson of Venus®, Pellucidar®, At the Earth's Core™, The Land That Time Forgot®, Caspak™, Jason Gridley™, Victory Harben™, Swords of Eternity™, Beyond the Farthest Star™, and The Moon Maid™ owned by Edgar Rice Burroughs, Inc. All associated logos, characters, names, and distinctive likenesses thereof are trademarks or registered trademarks of Edgar Rice Burroughs, Inc.