Description
by John Eric Holmes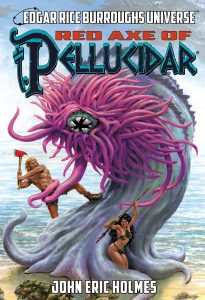 Cover art by Richard Hescox
Foreword and frontispiece by Christopher West Holmes
Chris West's deadly prowess with his weapon of choice had earned him the name Red Axe in the Stone Age world of Pellucidar at the Earth's core. Sentenced to die along with the woman he loved by the merciless Mahars, West had fought his way free of the lethal laboratories and ghastly arenas of their underground city. Now he must carve a path for his small band of fugitives through a primordial landscape teeming with monstrous beasts and brutish men bent on their destruction.
Includes the Bonus Novella 
"Jason Gridley of Earth: Across the Moons of Mars"
A Tale of the Swords of Eternity Super-Arc
by Geary Gravel
Hurled from world to world by the vagaries of subatomic entanglement, Jason Gridley is plucked from the surface of Barsoom for a whirlwind tour of its mysterious satellites. Menaced by carnivorous cat-men on one moon and marooned with the survivors of a thousand-year-old catastrophe on the other, Jason and an enigmatic fellow traveler from Earth must find some way to survive the perils that threaten to spell their doom.
Red Axe of Pellucidar is available in softcover and hardcover editions, as well as a hardcover Collector's Edition with a signed bookplate.* The book is expected to ship to customers in Summer 2022.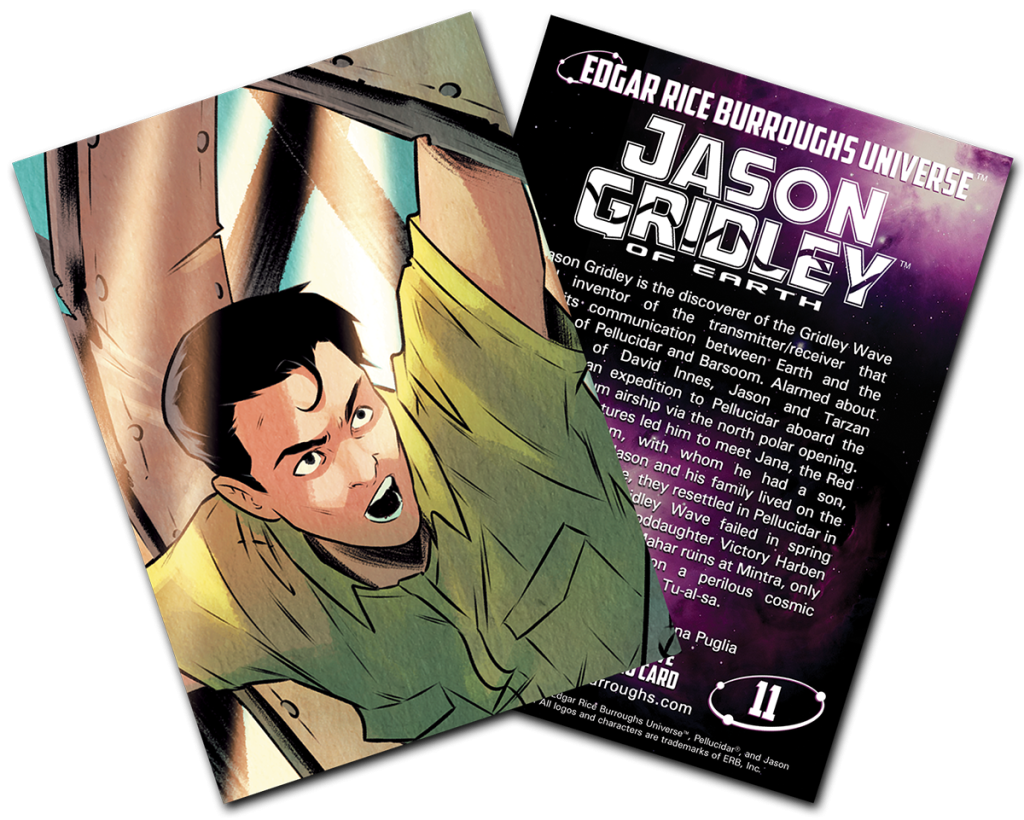 Bonus Trading Card—While Supplies Last
All preorders of Red Axe of Pellucidar placed directly from ERB, Inc.'s online store will come with an exclusive collectible ERB Universe trading card featuring Jason Gridley of Earth. Collect all of the trading cards by preordering each ERB Universe novel directly from ERBurroughs.com!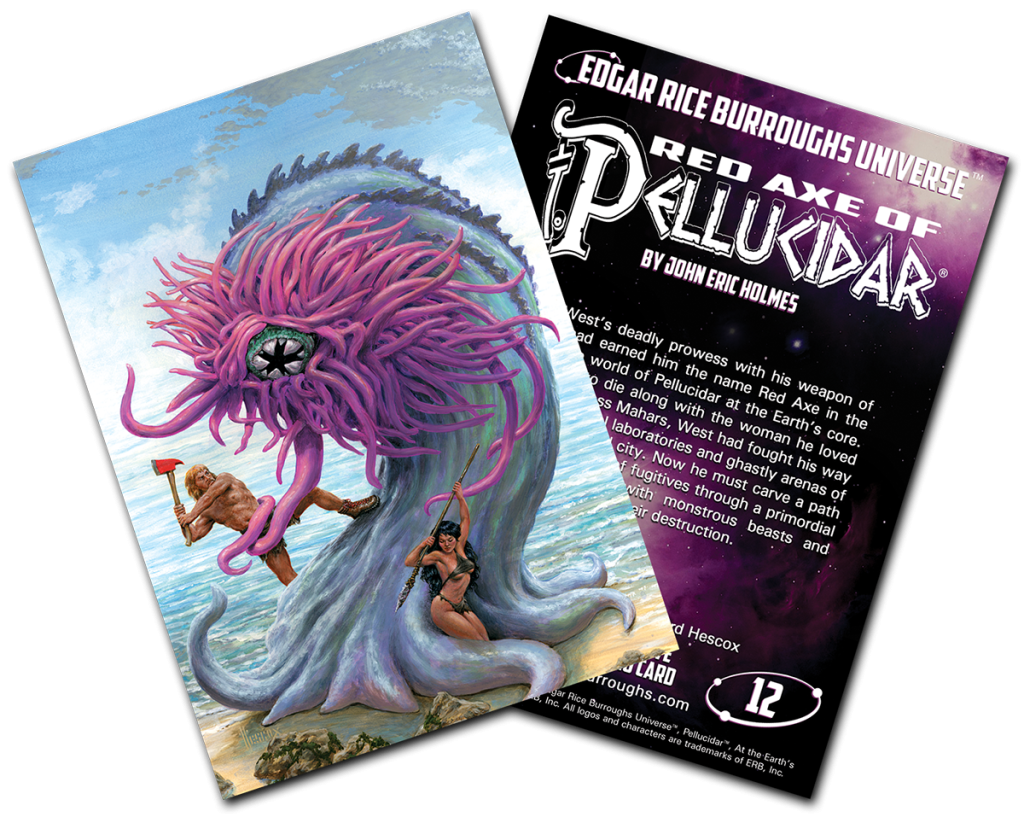 Hardcover Limited Collector's Edition
The hardcover Collector's Edition of Red Axe of Pellucidar features a special ERB Universe bookplate signed by Christopher West Holmes (John Eric Holmes' son, who also wrote the books' forewords and illustrated their frontispieces), along with facsimile signatures of John Eric Holmes and Edgar Rice Burroughs. Additionally, the Collector's Edition of Red Axe of Pellucidar will include an additional ERB Universe trading card featuring Richard Hescox's cover art for the novel. Each Collector's Edition is limited to only 300 copies.
ABOUT THE AUTHORS
John Eric Holmes
John Eric Holmes (1930–2010) was the first writer after Edgar Rice Burroughs to pen an authorized novel set in Pellucidar, the world at the Earth's core. He was also the author of the Buck Rogers novel Mordred as well as several short stories. He is perhaps best known for having written the popular 1977 Dungeons & Dragons Basic Set (also known among D&D players as the "Holmes Basic Set"), which introduced an entire generation to the world of fantasy tabletop roleplaying games. In 1993, he was honored with the Lifetime Achievement Award from the Edgar Rice Burroughs Chain of Friendship (ECOF).
Geary Gravel
Geary Gravel is the author of Edgar Rice Burroughs Universe novel John Carter of Mars: Gods of the Forgotten, the Philip K. Dick Award finalist The Alchemists, and the novels The Pathfinders, A Key for the Nonesuch, and Return of the Breakneck Boys. He has written several novelizations, including Hook, based on the Steven Spielberg film, and Batman: Mask of the Phantasm, based on the animated movie. He lives in western Massachusetts, where he worked for decades as a Sign Language Interpreter for the Deaf.
About the Cover Artist
Richard Hescox is one of the founding lights of the Imaginative Realism movement. He has contributed artwork to such projects as the films E.T. and The Dark Crystal, as well as computer games, record albums, and magazine illustrations. He has also provided cover art and interior illustrations for hundreds of books, including the limited edition of A Clash of Kings from the George R. R. Martin's bestselling Game of Thrones series. Richard previously painted the iconic cover art for all five books of Edgar Rice Burroughs' Carson of Venus series, as well as Skies of Venus: A Novel of Amtor by Neal Romanek and Tarzan and the Valley of Gold by Fritz Leiber.
---

Swords of Eternity Super-Arc
A mysterious force hurls inventor Jason Gridley and his protégé Victory Harben across space and time, bringing them face to face with heroes and heroines of unparalleled courage and ability—Carson Napier, Tarzan, John Carter, and more. With the help of their intrepid allies, Jason and Victory will uncover a plot both insidious and unthinkable—one that threatens to tear apart the very fabric of the universe!
Carson of Venus: The Edge of All Worlds by Matt Betts
Tarzan: Battle for Pellucidar by Win Scott Eckert
John Carter of Mars: Gods of the Forgotten by Geary Gravel
Victory Harben: Fires of Halos by Christopher Paul Carey
Other Edgar Rice Burroughs Universe Books
Mahars of Pellucidar by John Eric Holmes
Tarzan and the Forest of Stone by Jeffrey J. Mariotte
Tarzan and the Valley of Gold by Fritz Leiber
Tarzan and the Dark Heart of Time by Philip José Farmer
---
Copyright © Edgar Rice Burroughs, Inc. Trademarks Edgar Rice Burroughs®; Edgar Rice Burroughs Universe™; ERB Universe™; Pellucidar®; At the Earth's Core™; Mahars™; Tarzan®; John Carter®; John Carter of Mars®; Carson of Venus®; Carson Napier™; Jason Gridley™; Victory Harben™; and Swords of Eternity™ owned by Edgar Rice Burroughs, Inc. Associated logos, characters, names, and distinctive likenesses thereof are trademarks or registered trademarks of Edgar Rice Burroughs, Inc.