Description
Archaeologist Jane Porter returns to her dig site in the Aleutian Islands to find it taken over by her nemesis, a rival scientist whose evil plans begin with resurrecting terrors of the past—and will only lead to a horror even more unthinkable.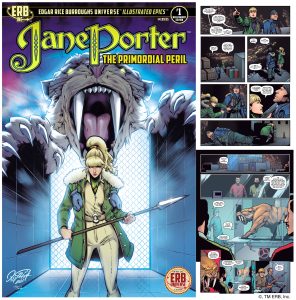 Jane Porter: The Primordial Peril is a 32-page comic book with a full 24 pages of story. It is written by Mike Wolfer, with the story, series concept, and expanded canon by ERB, Inc.'s Director of Publishing Christopher Paul Carey and Wolfer. The gorgeous cover art is by Miriana Puglia and the interior art is by acclaimed illustrator Roy Allan Martinez, with lettering by Natalie Jane. Rounding out the creative team is interior colorist Diego Vazquez and cover colorist Bruna Costa. This is the first-ever comic book story published directly by Edgar Rice Burroughs, Inc., the company founded by Mr. Burroughs in 1923, making it a unique, must-have item for your comic book and Edgar Rice Burroughs collections.
Edgar Rice Burroughs Universe Illustrated Epics
For decades, various publishers have presented the classic characters of Edgar Rice Burroughs in comic-book format, but never has ERB, Inc., released its own comic books and graphic novels…until now! ERB Universe Illustrated Epics is an all-new line of comics and graphic novels that perfectly captures the high adventure of ERB's literary works in new, canonical tales created and approved by the company itself. Crafted with an eye for accuracy and loyalty to the source material, each ERB Universe Illustrated Epic will thrill and excite fans of each franchise, while progressing characters and storylines in organic directions that carry them beyond the boundaries of the original classic novels into unexplored realms. You'll also be introduced to brand-new heroes and villains of the ERB pantheon in colorful science-fiction epics that will have you on the edge of your seat!
Follow Us On Kickstarter!
Get the first look at each ERB Universe Illustrated Epic as it launches on Kickstarter! Just create a Kickstarter account or sign into your existing account, then click on the "Follow" button on ERB, Inc.'s Kickstarter profile page to be notified each time we have a new campaign ready for launch! Special Note: Our Kickstarter campaigns offer collectible Kickstarter exclusive and variant editions, along with other merchandise, that will never be made available anywhere else.
---
© Edgar Rice Burroughs, Inc. All Rights Reserved. Trademarks Jane Porter™, Tarzan®, Tarzan of the Apes™, Edgar Rice Burroughs®, Edgar Rice Burroughs Universe™, Edgar Rice Burroughs Universe Illustrated Epics™, and Illustrated Epics™ Owned by Edgar Rice Burroughs, Inc. Associated logos, characters, names, and the distinctive likenesses thereof are trademarks or registered trademarks of Edgar Rice Burroughs, Inc.